Erik Strand's TC Story
Howdy all, my name is Erik Strand. I'm currently 25 years old, an engineer by profession, married almost two years (no kids yet), and I live in a suburb of Chicago, IL. My experience with testicular cancer began in the summer of 1997 around mid June.
My wife had been away on a business trip and I was playing a softball game as I did about twice a week in a men's league with some friends. On that particularly warm evening, on a slide into 2nd base, I was so graciously kicked in the (at the time) balls by the nice guy playing shortstop.
It didn't really bother me at the time, but when I got home and took a shower I decided to check myself out, for an injury that is. Now I usually did self-exams periodically (maybe once every couple of months or so) as a result of high school health class, but like everyone else, I never expected to find anything. Let's face it, as a 23 year old kid, what the hell could possibly touch me; I'm indestructible!! Yeah, right. While in the shower, and pretty much by chance, I found what felt like a ball bearing inside my right testicle. It wasn't a lump or a nodule like many of the seminoma cases tend to be, but it felt like the one end of the testicle was "hardened" -- weird.
I was a little scared and hardly slept at all that night, but I tried my best to put it out of my mind. Over the next few weeks I was noticing the testicle was getting larger; just a few weeks earlier, when I found the problem, my right testicle was smaller.
I let it go for almost a month until I finally told my wife,I was so afraid I was going to scare her. We had just been married in March of that year, and were in the process on closing on our first house. I was also in the third month of a brand new job and life could not have been more complicated for two newlyweds. On one afternoon in mid-July my wife walked in the door after work and I was down the hall in the bathroom. I remember looking at myself right in the mirror and realizing that I had to tell her now. I told her that I had made an appointment to see my primary care physician and that I was going the next day. Little did I know that this appointment would be the kick-off to a 5 month battle that would forever change my life.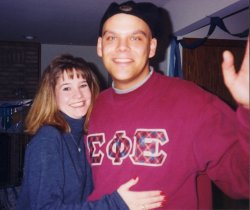 My wife and I.
The visit with my primary care physician took only about 20 minutes and he noticed the problem right away. He told me he was sending me to a urologist the next day and that I shouldn't put this off. I was now pretty scared and already suspected cancer in the back of my mind.
The next day I visited the urologist and went through the typical questioning, peeing in a cup, etc. before he examined my "weird" nut. After he felt the area that I was concerned about and compared that to the other one, he looked up at me and said, "You're a smart kid. I'm glad you came to see me." He didn't really want to speculate, though, until he got results from an ultrasound and some blood work. The blood tests were the now all too familiar "Alpha-fetoprotein" and the "Beta-HCG" and both came back elevated - 28.6 and 16 respectively - not good.
The ultrasound showed a 1.5 x 2.5 cm mass inside my right testicle. My urologist sat down with my wife and I and told me that there was a 95% chance that I had cancer and that the testicle had to be removed immediately. Needless to say I was terrified; I don't think I heard the next five minutes but eventually it settled in. How the hell was it possible that a healthy, active, 23 year old gets cancer? I couldn't stop thinking if it was something that I did or was exposed to that caused this. I had no idea what to think - I was just blown away.
The following week was insane. We had our entire apartment packed up for moving and were trying to tie up all the loose ends before we closed on our house. In the mean time I had to break the news to my family. That was hard for me. I'm the only son of three kids and the youngest to boot. It always seemed like I was always being looked after and worried about in one way or another. I think telling my parents was the hardest. My folks and I have always been pretty close and, as a result, it was very hard to tell them that their youngest has cancer. Both my sisters were very upset but took it pretty well.
My oldest sister was almost to full term with twins when I told her and I thought she was going to deliver them right there in her living room; kind of funny when I think back on it. By the end of the week everyone had heard the news and all were helping us move into our first house. We closed on the 25th of July (Friday), moved in on Saturday, and I was in surgery for the Orchiectomy on Monday morning. To make matters worse, on that Sunday July 27th I received a phone call from a friend telling me that a mutual friend of ours was hit by a drunk driver and was in a hospital in a coma in Valparaiso, Indiana.
At that very moment I just had to ask God "Why?". Could life get any worse? Two weeks later to the day, my friend Dan Curtis (age 24), a guy who was a son, a brother, a boyfriend, a classmate and so many other things to so many people, died at 10 p.m. at Porter Memorial Hospital. We missed him by 30 minutes in a furious drive from Chicago to Valpo. I never got to say goodbye. THAT was a long weekend. Sorry for the rant, but that whole situation pretty much summed up my life at the time of my bout with TC; the bad news seemed to never end. That would eventually change.
The IO and Results
The Orchiectomy went smooth and I was home that afternoon with a huge bandage on my crotch and a gigantic ice pack in my pants. It looked pretty funny, almost as if instead of taking away some parts, they added some ? if you could imagine that.
I was out of work for a week and was waiting for the pathology report of my now removed testicle. My incision, just below the bikini line, was healing well and I was able to take the steri-strips off by the second week. By this time the pathology report was back and my urologist told me the news. Non-seminomatous mixed germ-cell tumor primarily consisting of embryonal carcinoma but showing parts of seminoma, yolk sac tumor, and immature teratoma. What a mess!
The pathology report showed no vascular/lymphatic invasion and no capsule or cord invasion, putting me a pathological stage I. I guess it could have been worse. Based on the ?non-seminoma? part, my urologist laid out my options as he saw them. 1.) Surveillance and 2.) RPLND. I was terrified of both and I agonized over the decision of what to do next.
This was right around the time that I found the TCRC and the TC-NET thanks to the help of my friend Chad. Through email I was able to make contacts with some great people (Chris Brewer, Doug Bank, and many others) who gave me a mountain of great information. I immediately read everything I could get my hands on and spent most of my time at work doing research on the Internet. With the help of the guys on the TC-NET I found out about Indiana University and all their great expertise in treating TC.
I made a call for an appointment and the next week my wife and I hit the road for Indianapolis. To be safe, I had already made the necessary arrangements to have the RPLND in Chicago just in case I chose not to stay at IU. I didn?t want to be away from my family for six days in the hospital and I wanted to be close to home. I knew, though, that there was no way that I was going to put my life and my fertility on the line with a surgeon who couldn?t do the job - hence my trip to IU.
Right around the time of my IU trip was when my sister delivered two beautiful boys. Trevor and Austin Hansen, were born on August 5, 1997 ? what great kids. I never thought I would find myself in a hospital at 10:00 in the evening for a CT scan only to take an elevator up two floors to see my newborn nephews. Talk about odd timing. I think that particular situation was probably one in a million. With the birth of these kids and my new found sources of information I was starting to feel like things would be o.k.
Trip to IU
When Dawn and I arrived at IU we met with an oncologist, Dr. Craig Nichols, and a urologist, Dr. Richard Foster - both were great guys. I really felt like I was in good hands and I was confident that the answers to my questions would be the right ones. Before going to IU, I had no idea of their expertise in the area of TC ? these guys are real pros. I brought with me all my records and all my films and slides. The IU pathologists looked at my original slides and redid the pathology report.
From the advice I got from the TCRC, I learned that TC is often misdiagnosed simply because urologists, oncologists, pathologists, etc. just don?t see this disease all that often - it?s just plain rare. It doesn?t always mean that the doctors are stupid (well, sometimes it does) but rather that the docs just don?t treat it often enough to be considered experts.
This fact could not have been pointed out more clearly than when I got the pathology report back from IU and it showed DEFINITIVE VASCULAR/LYMPHATIC INVASION. I was so pissed off. The Pathologists in Chicago missed it; they noted NO vascular invasion. This is one of the most important factors in deciding on surveillance or further treatment and they missed it!
Note:To anyone going through TC treatment, get second opinions! I can?t stress this enough.
I also found out the percentage of cancerous components in the pathology report: 70% embryonal carcinoma, 10% seminoma, 10% immature teratoma, and 10% yolk sac tumor - still a big mess. Anyway, the doctors at IU had confirmed what my local urologist said and were recommending either surveillance or RPLND.
Dr. Foster was leaning toward the surgery and I think this is ultimately why I chose to go ahead with the RPLND. I?ve never been one to sit idle on things like this and I really felt that it was better to attack and kill this bastard of a beast while I had the upper hand. The only problem now was that I wanted to have the surgery in Chicago near my family and Dr. Foster did not live in Chicago.
Ultimately, after some serious Q&A sessions with Dr. Nellessen (my local urologist), I finally had the confidence that he could do the job and do it right. I was only his 11th RPLND, which made me a little nervous, and others on the TC-NET didn?t quite agree with my decision.
Despite differing opinions, in the end it was the decision that I was most comfortable with. Had my case been more advanced I think I would have stayed with IU. Anyway, at least the consult made me feel better. Sometimes the battle is just as much mental as it is physical. Being in familiar surroundings with family and friends close by provided me with tremendous ammunition to stay focused in my fight. God bless all those who hung in there with me, I?ll never forget it.
The RPLND
With my mind finally at ease with the decision to continue treatment with surgery, I prepared myself for the RPLND. I began this process by banking sperm.
With the help of my wife?s stepmom, an obstetrician, I was able to find a nice fertility/andrology clinic in downtown Chicago. It was a private clinic and more money, but it was worth the peace of mind. This was a very humbling experience for me. It was one of those experiences that really brought an entire situation, in full magnitude, to light. I left the office feeling like I was being robbed of something - maybe my manhood, I don?t know. This obviously wasn?t the case and was a wise precaution to take. Anyone going through TC treatment should ALWAYS bank sperm.
Once the deposit was made, all I had to do was prepare for surgery - no big deal. I was given some pills to take and a gallon of the most powerful laxative known to mankind ? it was none other than the feared ?GOLYTELY?. It makes me sick to even think about it.
My surgery was scheduled on Friday August 29th so I took Thursday off of work. I didn?t think I should be dealing with a bowel prep while at work. Needless to say, the Golytely turned that Thursday into a really bad day. I had to drink this stuff, as did many others on this list, every 15 minutes until it was gone. It tasted horrible and gave me such a bad gag reflex to my water that I could barely stand the smell for almost six months afterward.
Once it was gone, all I could do is wait for the laxative to take effect. Then it happened. The first trip to the bathroom wasn?t so bad; it was the next 20 that really did me in. Within 2 hours of my first glass of that god-forsaken stuff, I was filling the toilet with clear water. This is the brunt of many a joke among my friends, but it was still hard on me - maybe harder on my courage than anything else.
The next morning I couldn?t eat or drink anything before surgery and I was completely famished from the lack of food in my stomach. At one point my wife had to pull over just two blocks from the hospital so I could throw up. Needless to say, the day was not looking to be one of my best. Once we checked in the nurses gave me some Valium and some other pills to settle my stomach just before I went down for surgery.
My doctor said that the procedure would take about four hours and that I would be in a normal room by the afternoon, providing the surgery went well. I was with my mom, my wife?s mom, my sister Julie, and my wife Dawn as I was wheeled down for surgery. That was the only time during the entire TC ordeal that I was really ever scared, of dying that is. At age 23 I never thought I?d have to make my peace with God, but on that morning I did. After saying goodbye to my wife just before entering the O.R., I thought to myself for the first time that I was in some serious trouble ? it hadn?t really hit me until just then what was going on.
While waiting on a stretcher under the warmed blankets in the freezing cold of the O.R. I lost my grip. I was scared for the first time. Dr. Desilva, my anesthesiologist, came over and gave me a hand. He told me that he and the other doctors were not going to let anything happen to me and that I was going to be fine. I will always appreciate those kind words.
The weird thing about the RPLND was that there is a fairly large amount of time, a day maybe, that completely escapes me. I remember being given the epidural in my spine, but I don?t remember anything past that until the nurse started yelling at me in the recovery room. I remember that I couldn?t respond to her but I was thinking, ?why in the hell is this lady yelling at me so loud, I can hear you fine.? Then I realized that I was in a great deal of pain as I started to become more alert.
Waking up from anesthesia is a really weird thing. You?re totally disoriented and almost physically paralyzed for a while. It seemed like my brain was awake and totally alert, but my body was trying to catch up. The very next thing I remember was being wheeled into a room with my wife holding my hand. She said, ?Erik, the surgery went fine and you?re in a normal room, not ICU. You?re going to be fine.?
At that point I knew I would get through this and things would be fine. You?d never guess that that was what I was thinking at that time. Let?s face it, anyone just out of major surgery looks terrible. I had an NG tube in my nose that was emptying my stomach, a couple IV?s, oxygen tube in my nose, Foley catheter (man, am I glad I was out for that one!), and a goofy sensor on my finger. Anyone who saw me at that point would have been a little shaken?but I was o.k.
I think one of the hardest parts of my RPLND was when I saw my dad for the first time after surgery. I was only a couple hours out when my dad came into my room. I could tell he was pretty shaken when he saw all the tubes and machines hooked up to me. He stood next to me and took my hand and asked in a shaken voice how I was doing. Although I was still out of it a bit, I remember gripping his hand as hard as I could and telling him, ?don?t worry, I?ll be fine?. He looked at me like any father would look at a son who was sick. I guess it was one of those moments that make you realize the important things in life. After that he left and went with my sister up to my folk?s house in Wisconsin - I think he needed some time to think. What better capacity to think in than fishing in the great North Woods; I?m sure he?d agree.
My mother, on the other hand, seemed to handle things best by being involved. She?s been an R.N. for over 30 years and actually works at the hospital where I had my surgery. She works nights at the hospital on the Obstetrics floor and would come down and sit with me and watch TV when her shift was slow. She was always playing with my IV?s and making sure the nurses were doing things right. God bless her. I think we had some of our best talks together in the hospital that week.
Anyway, the six days I spent in the hospital were pretty tough. I needed help getting out of bed the first couple days, but I was determined to get up and walk. I remembered Chris Brewer?s story and the tips he suggested for getting through the RPLND; I was determined to follow his advice. I held a pillow to my stomach every time I had to cough or when my wife or sisters would make me laugh. The most important piece of advice was to walk, walk, and walk!?which I did every chance I got! I think I wore a groove in the carpet on the third floor of that hospital.
Walking is by far the best and quickest way to wake up your bowels. Sounds pretty gross, but the sooner your bowels come back to life, the sooner the doctor takes the ?God-forsaken? NG tube out of your nose. I hated that thing. It would scratch your throat and cause mucus to build up. Normally you could just cough it up, but with 51 staples running about 14 inches down my abdomen coughing was something I desperately tried to avoid.
By the third day my doctor said it was time for the tube to come out. I was out when they put it in (thank God!), but now he had to yank this two-foot long tube out of my nose. Let?s just say that it was pretty gross. The days following were much better without the tube and I progressed quickly from that point on.
On the afternoon of the third day in the hospital I got a visit from my G.P., who just decided to walk in my room, ask a few questions, and then walk out. He just happened to mention to me as he left that my urologist found one node that was positive for cancer; then he just left - what a jerk.
This really shook me. I was in the middle of visiting with my wife and this guy walks in, drops a bomb, and then walks out. He didn?t even take my blood pressure. No class?none. I guess this is why he?s no longer my primary care physician.
The next day my urologist, Dr. Nellessen, came to see me and laid out the situation. I was told that I had a 70-80% chance of being cured if I quit treatments with the RPLND, but two rounds of BEP chemo would bring those chances up to 95 to 97%. He said that he was surprised to find one positive node in the retroperitoneum template since the CT?s showed nothing. The node was less than two centimeters (the approximate minimum that CT scans show) so I guess his surprise was fairly understandable.
He said that he would refer me to an oncologist who he felt was excellent. With the bad news I was starting to feel like this thing would never end. Every time I finished one treatment, along came another. I was pretty frustrated at this point.
Time to go home
The next day in the hospital I met my oncologist, Dr. Kay. As it turned out, both my urologist and oncologist went to high school together. The funny thing is that my urologist is always telling me how he used to beat Dr. Kay on all their math and science tests. I guess doctors have big egos by nature. Anyway, Dr. Kay was great and explained the treatment that he was recommending. Two 21 day cycles of Bleomycin, Etoposide (VP-16), and Platinol that would consist of 5 straight days of Platinol and VP-16 for the first week only and Bleomycin on all three Tuesdays of the cycle. This matched with the research I had done so I felt pretty confident that I was getting the right care. All I had to do now was prepare for chemo and recover from surgery.
This was no small task. My urologist told me that when I get home I only have to remember three things: 1.) Chicago Tribune 2.) Couch 3.) Don?t lift anything heavier than a gallon of milk. Sound advice from goofy doctor. He can be a bit odd at times, but he really takes the edge off. He has a very caring personality and he really took care of me. He had my room placed right off the nurses station in the hospital and made sure that he would be the one taking tubes in and out and taking out staples, not nurses or residents. I will always appreciate the attention he gave to my case.
Finally it was Friday and I was going home. Another day in the hospital and I might have cracked. I spent the next two weeks resting and recovering. The first two weeks following the RPLND are the hardest. Sleeping in any position was next to impossible and the pain medication only made me feel ?out of it?. I found that sleeping with a pillow between my legs helped balance my weight and kept most of the pressure and tension off my incision.
By the end of the third week I was doing pretty good and actually managed to go for a nice leisurely bike ride around the block. This was just in time to start chemotherapy the next day. I was really afraid of chemotherapy; fear of the unknown I guess. I had always heard things about it but I didn?t really know what to expect.
Chemotherapy
This was it, the last stop on this crazy roller coaster. I was eager to start, only because I wanted to get it over with - kind of like when you pluck an eyebrow or pull a hair out of your head. I started on a Monday morning and got a ride to the hospital so I wouldn?t have to drive home. The nurses took my B.P, drew some blood and reviewed my pulmonary function tests. Then I sat in reclining chair and watched TV while they started the IV. First I got a test dose of Bleo to see if I was allergic, which I apparently was not. A full saline bag followed up the test dose of Bleo, then a full Platinol bag, a full VP-16 bag, and finally another saline hydration bag. I was also given Lasix to stimulate my bladder and kidney function. This was to prevent the chemo drugs from damaging my kidneys. This translated into a bathroom trip every 20-30 minutes where I would urinate what seemed like a ?Big-Gulp? every time. I hated Lasix.
The first couple days were pretty easy with the exception my allergic reaction to the Bleomycin on the second day. Just after I finished the Bleo bag (maybe the size of a fist), I started itching all over and turned really flushed. I didn?t notice it at first because the 50-mg of Benadryl they give you kind of knocks you for a loop. All of a sudden I could see the spot on my arm from the test shot the previous day turn to a red blotch. By this time I was itching profusely and called the nurse to let her know something was wrong.
She immediately gave me a shot of Benadryl and another drug (Decadron, I think) to calm the side effects. The drugs worked but the damage was done. To this day, almost 2 years later, I have about four of five spots on various places on my skin where the skin was discolored and left blotched. On my right shoulder I have what looks like scratch marks from when I had the reaction. The places where my skin turned red from itching and scratching didn?t just fade away; they permanently discolored my skin. I guess it?s a small price to pay but it still upsets me. From this point on in my chemo I was give a higher dose of Benadryl along with the Decadron before I got my Bleomycin and it seemed to take care of the reactions.
By the end of the first week of Platinol and VP-16 I really felt horrible. I couldn?t sleep and I was developing sores in my mouth and on my tongue. The general fatigue and nausea were enough, but the worst thing was the heightened sense of smell and taste. I had to brush my teeth with scalding hot water just to kill the taste and smell of the water. I still couldn?t get that reactive smell of my water out of my head ever since I had to drink the Golytely for surgery. Food smelled weird and even coffee (I love coffee) tasted bad. I remember my mom bringing me a McDonald?s chicken sandwich in the oncology ward and it was all I could do to keep it down.
By the end of the first weekend I felt like burnt toast. The Platinol was starting to effect my hearing and made me feel like I was constantly in a tunnel. My knuckles on my hands turned darker and the skin seemed to have ?thickened?. All I remember thinking is ?How in the hell can this stuff possibly be good for me??.
I think I?m going bald